Our 12 Days of Winning gives you 12 chances to win some incredible prizes. Prizes will be given away daily from December 1-12.  Each day you will have a chance to win a mystery prize valued at a minimum of $100. Some prizes are valued at $300+. Our Grand Prize winner will be drawn on December 12th and they will win a prize package valued at 1,400!!! If your name is drawn for any of the prizes your name goes back into the draw for multiple chances to win. The Grand Prize Package will include the following, $200 Costco Gift Card, $100 Algonquin Resort Gift Card,  $50 NB Liquor Gift Card, $50 Sobeys Gift Card, $50 in Lottery Tickets, $50 Hospice Shoppe Gift Card , Kalei Crossbody Guess Purse, NB Box, 3 sets of earrings from Hazey Daisy Designs, 3 soup mixes from Mitchell's  Soup Company, Allie Beckwith New Brunswick Sweater ( Size Med), Masterchef Stainless Steel 10pc Cookware Set, Bath Bombs from the Bath Shack in Fredericton, $50 Timbertop Adventures Gift Card and a variety of mystery items!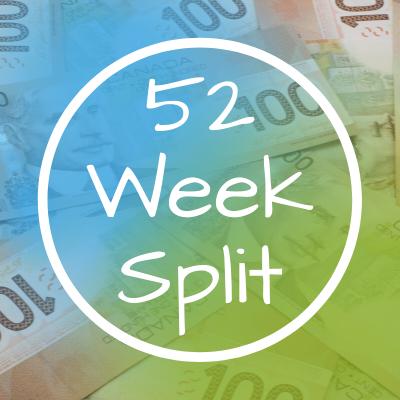 Only 1$ a week for 52 weeks.
$26,000 in CASH PRIZES!!
Our 52 Week Split is an annual 50/50 lottery draw that raises $26,000 in support of Hospice Greater Saint John, with $26,000 in prize winnings!
Tickets are $52 each and last an entire year! Draws will begin once all 1000 tickets have been sold and be drawn every other week. If you win you are entered back into the draw for multiple chances to win!
IMPORTANT: WHEN PURCHASING A TICKET FOR SOMEONE ELSE YOU MUST CONTACT US DIRECTLY AT 506-632-5593.
This lottery is limited to 1000 tickets